Tesika Teknik AB
is the Swedish dealer of Medical Test Equipment from
Fluke Biomedical
and
CIRS Inc
, and Electrical Test Instruments from
Fluke Corp
. We have also developed Windows software to support some of the Test Instruments.
Biomedical TestView is a stand-alone PC software that runs on Windows 7 and Windows 10.

The software has been developed using Microsoft Visual Studio and .NET Framework.

Biomedical TestView can control, and communicate with the following electrical safety analyzers:

Fluke Biomedical ESA615
Fluke Biomedical ESA612
Fluke Biomedical ESA620
Fluke Biomedical 601Pro XL
Bio-Tek 601Pro Series
Metron QA-90
Fluke Biomedical ESA601
Biomedical TestView can remote control the safety analyzers and run Test sequences according to several international safety standards. It can upload test results stored in the instruments, store the test results, and also offer a comprehensive printed test report that prints on standard Windows printers.
Version 4.1 is the latest released version.


BTVSQL is a version of Biomedical TestView that is tailored for the CMMS system Medusa from SoftPro Medical Solutions.

For more information on our software solutions, please contact us at:
Tesika Teknik AB
Bjornstorps by
S-247 98 GENARP
SWEDEN
Phone: +46 (0)46 55 080
E-mail: info@tesika.se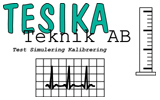 © 2022 Tesika Teknik AB